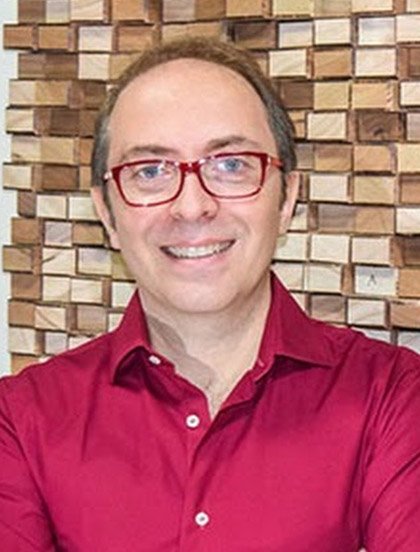 Pianist, composer and arranger, Turi Collura has lived permanently in Brazil since 2002, where he accumulates an extensive career as an instrumentist, composer and music educator.
As an educator, he has taught at Faculdade de Música do Espirito Santo (FAMES), from 2003 to 2012, where he coordinated the Department of Popular Music. He taught Harmony, Improvisation, Popular Piano and Performance.
Turi played a significant role in the musical formation of several musicians in Brasil.
Turi is the author of a 2 Volume method called "Improvisation: creative practices to a melodic composition in popular music", published by Irmãos Vitale, and nowadays it is considered one of the best musical methods in Brazil. Many colleges and institutions of musical education in Brazil are using the books, and its author is invited to give lectures and workshops in several states.
In 2009, Turi introduces the method "Rhythmic and Brazilian grooves for piano", which received a cultural fund from the sponsorship law Rubem Braga. The research on Brazilian rhythms guided with a serious scientific approach led to the production of a book and a video class. The method intends to fill a significant gap in popular piano musical education and encourage research in this area.
Turi Collura is an experienced teacher who has taught in several institutions in Brazilian and foreign institutions. Active in the music scene in Brasil, in 2007 Turi released his first record "Interferências", recorded in Rio de Janeiro, featured by internationally renowned musicians such as Nelson Faria, Ney Conceição, Daniel Garcia and Rafael Barata, Daniel Dias, among others.
In 2011 he released his second record, "Conversa na Vila", a tribute to Noel Rosa, which had the relevant participation of Arranco de Varsóvia, a group from Rio and other renowned musicians, such as Domingos "Bilinho" Teixeira, Zé Luiz Maia, Marcio "Hulk", Joana Queiroz, Andrea Ernest, Edu Szajnbrum, João Schmid and the actor Marcello Escorel.
In July 2011, he was awarded the Commendation "Mauricio de Oliveira," Merit Honor by the city of Vitoria for his services to the citizens of Espirito Santo.
Turi is a professor and educational coordinator at Terra da Música, an online music school in Brazil (www.terradamusica.com.br).